Making a Visit
The Lady Chapel is kept open for private prayer and reflection – organised pilgrimage groups are requested to book in advance here
For school bookings, please email Christa Kamanga at parish@middlesbroughrccathedral.org.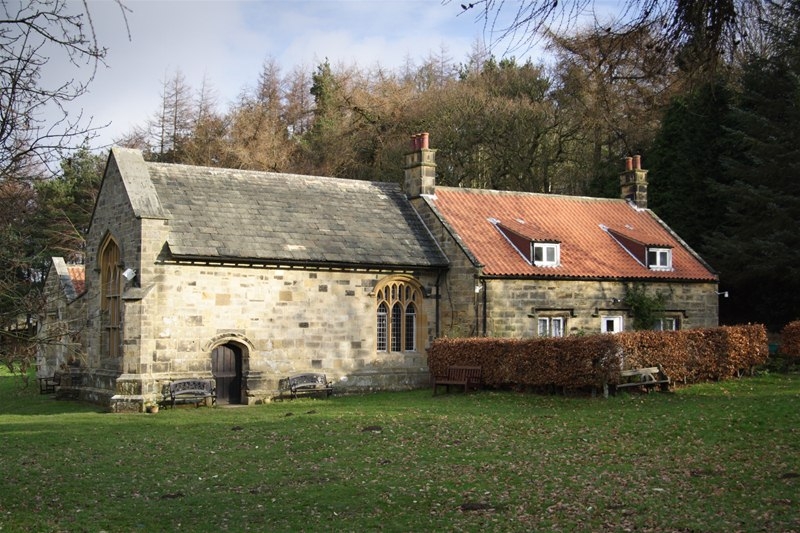 Access:
Access to the chapel is via a rough track which, in parts, is both steep and uneven and can be muddy during wet weather.
Caution is to be exercised at all times as the track is also used by farm vehicles.
It is advisable to wear footwear suitable for a visit to the countryside.
Access for disabled pilgrims and the elderly may be difficult, but access by motor vehicle can be arranged after prior arrangement.  The site contains uneven ground and steps, due to the period of the construction – please be aware of limitations this may impose.
Risk Assessments:
Group pilgrimage organisers are asked to complete their own risk assessment for the pilgrimage before visiting the shrine.  Individual pilgrims need to be made aware of the surrounding hazards – we take no responsibility for any incidents.
Schools and Pilgrim Groups:
Children are to be supervised at all times due to the nature of the Lady Chapel site – please be aware this is a religious site and there may be people making a personal retreat in silent prayer.
Ball games are not permitted within the immediate vicinity of the shrine.
Groups are asked to take all litter away with them.
A donation is expected for the upkeep of the chapel should an organised group visit – £50 to £100 is suggested, dependant upon the facilities requested.
Facilities available upon request include male, female and disabled toilets, a meeting room, Blessed Sacrament chapel, piety shop, kitchen and sacristy.
It is highly suggested that groups bring a first aid kit/appropriate first aid cover
Visiting Priests:
All priests are very welcome to celebrate the sacraments with their pilgrimage group or to concelebrate at the shrine. They are, however, requested to sign the Register for Officiating Clergy kept at the shrine.
In addition, priests from outside the Diocese of Middlesbrough are required to produce a valid celebret or Testimonial of Suitability.
Vestments and alb are available for the celebration of Mass, as are the other appropriate items
We must be informed if Holy Mass is to be celebrated so the appropriate arrangements can be made
Medical Emergencies:
A basic first aid kit is located in the Lady Chapel sacristy.
It is highly suggested that groups bring a first aid kit/appropriate first aid cover
Telephone:
Mobile phone coverage is possible but somewhat limited at the Lady Chapel.
Sacred nature of the shrine site:
Please respect the sacred nature of the Shrine and its environment at all times.
Dog owners are requested to keep their dogs on a lead at all times and to clean up after them. Dogs other than assistance dogs are not permitted inside the shrine itself.